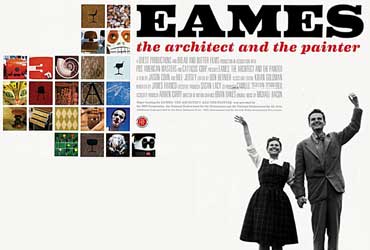 What does Eames Era Decor mean?
Eames era refers to the designers Charles and Ray Eames (article on my blog ) The plethora of work and designs produced from The Eames Office are often referred to as prime examples of mid century decor.
Although Charles & Ray produced films, art and architecture;  they are most fondly remembered for Eames chair creations  at Herman Miller Furniture.
The 1956 Lounger, Molded Plywood and Fiberglass side chairs (above) changed furniture design forever. That is to say, classic minimalist creations stand the test of time.
There are many organic shapes and forms seen on the chairs.  Above all, they look very natural. The Eames era endorsed bringing nature inside your home.
My opinion is, it comes from Charles' infatuation with designer & architect Frank Lloyd Wright. Who similarly, prescribed to open air home design.
Bringing the outside in will transcend into the Eameses' architecture projects as well.  For instance, the Case Study House #8.  This was their actual residence for 39 years.
Who else, but these wonderfully gifted people could've lived in such a wild and zany place constructed by themselves.
Just as a good host tries to anticipate the needs of his guest, so a good architect or a designer or a city planner tries to anticipate the needs of those who will live in or use the thing being designed. – Charles Eames
Eames era decor is easy to spot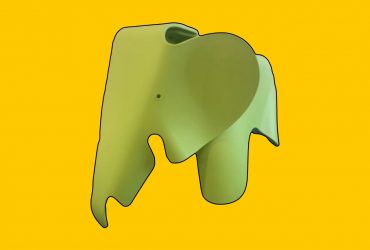 To clarify, much of it contains whimsy, organic forms and elements found in nature. ( See: How To Spot Mid Century Modern ). This seems to be a recurring theme through most of Charles and Ray's work.
In conclusion, the Eameses stand as two of the most influential modernist designers of the twentieth century.  Their creations in architecture, furniture, films, industrial design, exhibitions and toys are unprecedented.
More on The Eames Mid Century Era
Buy Molded Plywood Lounge Chair
About MidModScout.com
MidModScout.com is an online resource for all mid-century modern enthusiasts. We feature helpful posts on MCM Home Décor, Interior Design, Wall Art, Textiles, Furniture, Vintage Artifacts, Graphic Arts, Modernism and more.
Collectors, Homeowners, and other lovers of MCM style art and furnishings will find our comprehensive online Resource Guides to be very useful.  So if you're looking for Home Service Pros, Appraisers, Advisors & Consultants, Auctions or other local mid-century modern experts in the Atlanta Metro area, we're a good source.  see  Resources
Who is the Mid Mod Scout?
Billy B. is an expert consultant in design and color in the Mid Century Modern style. He has degrees in Web Design from Emory University and in Advertising Design from Central Piedmont College. Since 2009, he has run his own successful freelance web design business in Atlanta, Georgia.