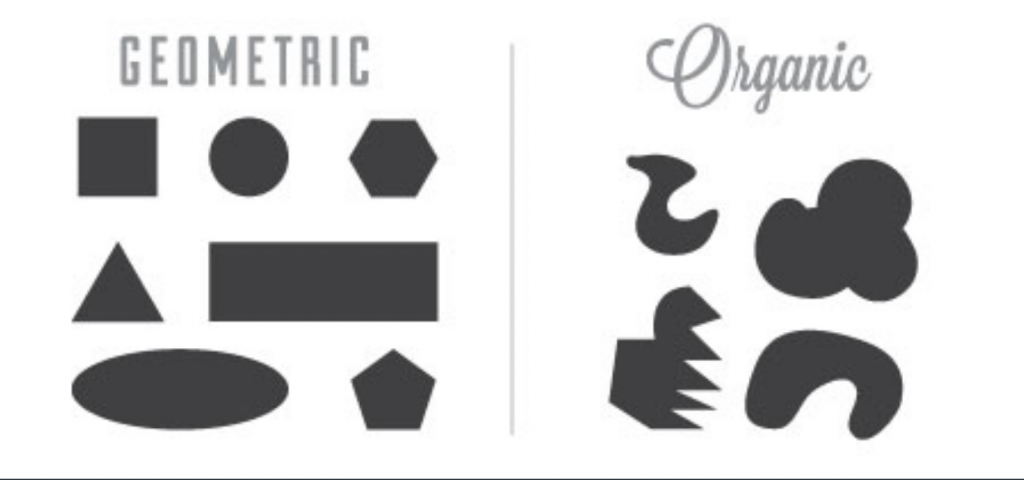 How to Spot Mid Century Modern Design
Teaching yourself to spot Mid Century Modern Design is easy. Take a minute and look at the chart above. The left column has Geometric shapes and the right column has Organic forms from nature.
Now, scroll down and compare those images with the gallery of furniture, home decor and product designs I have provided below.
Not to be elementary, but do you see how any of these pictures would fall either on the geometric side or the organic side of the chart?  Or maybe even both? Just 2 simple things to look for.
Great! You've just made your first assessment of what Mid Century Modern design might look like! (our impressions are in the captions as a guide) But, you may have a different point of view.
| | | | |
| --- | --- | --- | --- |
| | | | |
| Organic w/some Geometric table | Geometric w/some Organic Fabric | Organic - Ray and Charles Eames Lounger | Organic Parchment Paper Lamp |
| Organic w/some Geometric fabric | Geometric and Organic Plywood Chair | | Organic Fiberglass Chairs |
Creative designers of this era used these geometric + organic shapes and forms from nature to create something not seen before.
The use of high contrast in shapes and colors were intended to command your attention through:
Modern Colors: the drab of postwar USA comes alive with burnt orange, aqua, olive green, deep reds, bright blues & purples laying together with the polar opposite from Organic colors.
Organic Colors: (dark browns, tans, autumn gold, beet red, shades of citrus) appearing on the most unexpected objects & in the most unusual places.
Textures & Shapes:  Striking forms seem to appear – Jacks and ball, starbursts, asterisks, citrus fibers, fruit slices, leaves veins & blades, parchment lamps, plastics, molded plywood chairs, tapered furniture wood legs, blobs, boomerangs, abstract shapes, textile designs and popular woods (Oak, Teak, Rosewood, Walnut, Beech, Northern Yellow Birch).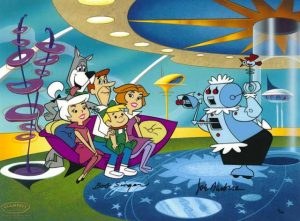 Space Age Design: You may have already noticed electron orbital shapes, atomic symbols, satellite antennae (Sputnik), clear bubble space helmets, flying saucers and outer space elements in Mid Century Designs.
They simply reflected an age of the USA / USSR space race and living with the Atomic Bomb threat looming over both adversaries.  The Cold War.
Modernism (dutiful to expressing stylistic changes in society) will absorb these blinking spacey orbiting creations and they WILL be seen in textiles, fashion, Mid Century table lamps, album covers, TV commercials, musical composition,  automobile and graphic designs.
Perfect for this modern world of the 50s & 60s.  Its the beginning of  "The Jetsons" futuristic look.  (Hanna – Barbera) – cartoon – 1962-1963.  Many times I've heard "It looks just like the Jetsons!" referring to mid-century modern design.
Organic elements of nature were fundamental in mid-century designs, especially in architecture.  Architects would design buildings owing their style to integration with natural surroundings. A prime example would be Frank Lloyd Wright's creation Fallingwater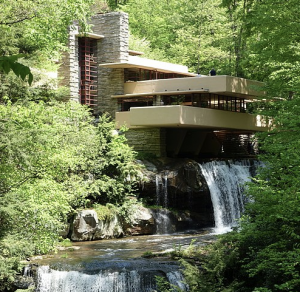 This was his masterpiece of "organic architecture".  Constructed over a waterfall that actually runs under the house, it truly reflects one of the cornerstones of Mid Century Modern Design – bringing the outdoors and indoors together.  
Designers were making a statement with new forms, colors, and designs to meet the needs of this modern highly industrialized post-war world. 
If you are new to Mid-Century Modern, my desire is that this section helps you see "why" things look like they do and "how" they came about from this modernist period.  Maybe you'll recognize the style that's influenced a great many things in your current daily life.
About MidModScout.com
MidModScout.com is an online resource for all mid-century modern enthusiasts. We feature helpful posts on MCM Home Décor, Interior Design, Wall Art, Textiles, Furniture, Vintage Artifacts, Graphic Arts, Modernism and more.
Collectors, Homeowners, and other lovers of MCM style art and furnishings will find our comprehensive online Resource Guides to be very useful.  So if you're looking for Home Service Pros, Appraisers, Advisors & Consultants, Auctions or other local mid-century modern experts in the Atlanta Metro area, we're a good source.  see  Resources
Who is the Mid Mod Scout?
Billy B. is an expert consultant in design and color in the Mid Century Modern style. He has degrees in Web Design from Emory University and in Advertising Design from Central Piedmont College. Since 2009, he has run his own successful freelance web design business in Atlanta, Georgia.