If you have perused our website Mid Mod Scout.com you know it to be an E-commerce source for discount mid century modern furniture and affordable interior & home decor artifacts.  Our mission spawns from the famous 20th Century design team  Ray and Charles Eames  "The Best For The Most For The Least".
There is a distinction between what that meant in the 1950s and what it says today.  With the incursion of returning veterans from World War II, the baby boom and demand for affordable housing, mass production was crucial in the business of industrial design. Charles and "Crazy Ray-zy" (as she was affectionately referred to)  Eames were geniuses to embrace this new concept and revolutionize industrial design in the mid-20th Century.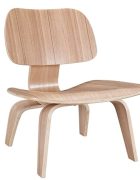 Mid Century Modern pieces are still popular because the aesthetics are timeless.  The clean simple lines fit well in contemporary homes and interiors today. The modernist feel and look of freshness stand test of time.
Modernist Today
Today this unique American Design movement from the 1950s has a renewed interest and popularity. Discount mid century modern furniture and other vintage reproductions from this era (such as Eames Chairs, George Nelson Clocks, Heywood Wakefield Furniture, etc.) are in high demand.  It seems they have been recognized or re-discovered and making its way into the mainstream America.  (Not to mention the very cool and hip factor of these modernist designs!)
We wish to uncover quality Mid Century style at reasonable prices. This was not always possible just a few years back.  If you desired to decorate and design your home in Mid Century Modern Style, it would have been with antiques of that age combined with the few contemporary reproductions available.
So, "The Best For The Most For The Least" has come full circle.  Today we find more and more manufactures re-creating these glorious designs of  last century modern. You will sometimes find re-editions of designs very true to the original form.  For instance, The Vitra Design Museum is known for its fine George Nelson Clocks reproductions.
With the resurgence of this great American Design Movement there are many choices and varying degrees of craftsmanship and price.  This is absolutely the best combination for today's consumer.  You can now obtain the modern style you hoped for and keep it within your budget.  With this style it is easy to mix original mid century modern artifacts with current reproductions and contemporary style seamlessly.
So, don't underestimate the value of discount mid century modern furniture.  Enhanced by polished curved angles, furniture from the 50s incorporated unadorned simplicity using clean straight lines.   The concepts were classic and so strong they never really went away.  You see it passed on in many contemporary designs and home decor today.
Mid Century Modern Origin
Mid Century Modern style was definitely influenced by Bauhaus, Scandinavian and Brazilian architects of the era.  But it was arguably most reflective of  "The International Style".  Defined by MOMA curators:
The style is characterized by an emphasis on volume over mass, the use of lightweight, mass-produced, industrial materials, rejection of all ornament and color, repetitive modular forms, and the use of flat surfaces, typically alternating with areas of glass

– Museum Of Modern Art
With that said,  the organic and less formal feel of mid century modern was not common with The International Style. An argument could be made that John Entenza was the godfather of mid century modern.  If not, he was certainly one of the earliest proponents of American Modernism.
As editor of "Arts & Architecture Magazine" he published the latest fresh news in modernist architecture,  fine arts, product design and artisan crafts as early as 1943.  This popular and award winning magazine included detailed coverage of the mid century movement as well as its pioneers including Craig Ellwood,  Le Corbusier, Walter Gropius and Frank Lloyd Wright.
One of John Entenza's greatest accomplishments was "The Case Study Houses" project.  Which super star architects of the era were commissioned to design, build and complete housing for returning WWII vets. They would be efficient and inexpensive model homes. "A House is a machine for living" concept from LeCorbusier & architecture and "The Case Study Houses Program" filtered inspiration & techniques to all mid century designers.
A case could be made that George Nelson's "Platform Bench" 1946 is one of the first furniture designs and origin of the mid century movement.  The time line bears it out.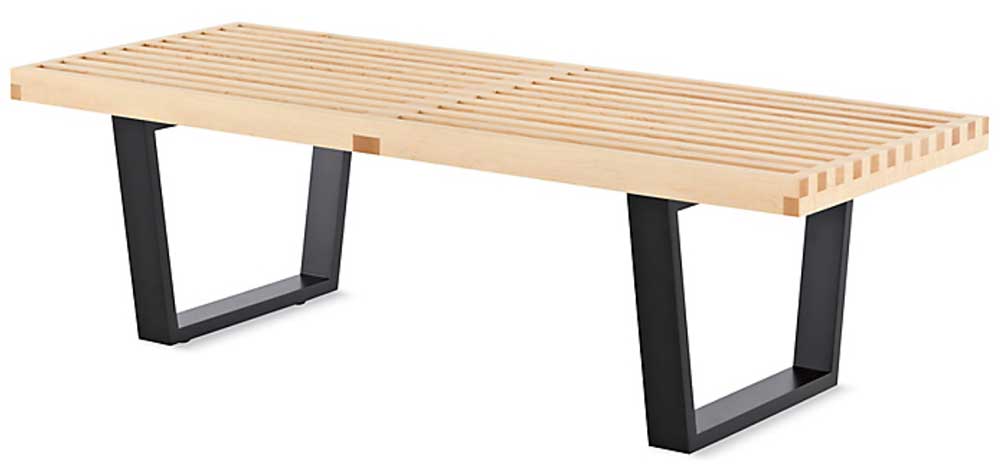 Following the Bauhaus credo which is "Good design for all" and maybe design could make the world a better place.  This 1946 Nelson bench is one of the first and yet its design holds up so well it is popular and available today.
It is a perfect example of "Getting the most of the best to the greatest number of people for the least amount of money."as Eames put it so eloquently.  This bench is currently being produced by Herman Miller (original manufacturer) and can also be found as discount mid century modern furniture from many producers in different price rangies for all consumers.
So, this wraps up our article with a tidy nice bow on top.  Memorable designs being mass produced and affordable to average home owner. This is what our American mid century designers were charged with and look at the beauty of what was produced. I belive they did change our lives with design and left the world a much better place for it.
About MidModScout.com
MidModScout.com is an online resource for all mid-century modern enthusiasts. We feature helpful posts on MCM Home Décor, Interior Design, Wall Art, Textiles, Furniture, Vintage Artifacts, Graphic Arts, Modernism and more.
Collectors, Homeowners, and other lovers of MCM style art and furnishings will find our comprehensive online Resource Guides to be very useful.  So if you're looking for Home Service Pros, Appraisers, Advisors & Consultants, Auctions or other local mid-century modern experts in the Atlanta Metro area, we're a good source.  see  Resources
Who is the Mid Mod Scout?
Billy B. is an expert consultant in design and color in the Mid Century Modern style. He has degrees in Web Design from Emory University and in Advertising Design from Central Piedmont College. Since 2009, he has run his own successful freelance web design business in Atlanta, Georgia.