Antique Collectors Search for What They Love
Start with One Thing That Interests You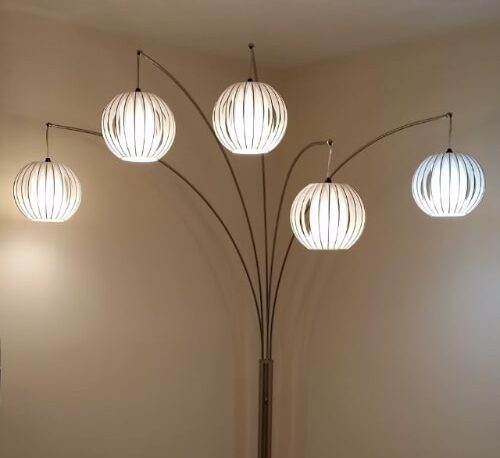 Collectors of mid-century modern start by finding something they really adore. For me, that might be George Nelson Clocks. That's my thing, your thing might be Eames Chairs for instance.
We should lend some advice straight away, that when collecting vintage items (especially if your just starting) you might want to stick with established designers like the ones above.
There are so many to choose from like Ray & Charles Eames, Arne Jacobsen, Finn Juhl, etc.  You will surely find styles that really get to you. Buying established designers will be easier to trace (labels) or to appraise by a pro.
With that said, focus on furniture, objects or decor that you would be proud to show off in your home. Something that screams YOU!  If it happens to be a loud burnt orange couch with cobalt blue tiger stripes, go for it!
Rule of thumb: When investing in mid-century modern buy what you love! – Mid Mod Scout
Researching MCM Designers & Objects Are Key
Once you've defined the designer or object(s) you would love to invest and have in your home, research is key.  What does it cost? Are there possible fakes in the market?  Are reproductions available and when were they produced?
There are tons of places on the internet to buy authentic, as well as, reproduction MCM designs.  After a little research you will be able to see what's authentic or not.
So, at first you must tread lightly until you find reliable and authorized resources to work with.  Buying online CAN be a safe option. Websites such as 1stdibs.com and Chairish.com offer guaranteed designer authorization of their products.
However when you find a company with that much clout, it will cost you more. With deeper research you may find smaller retailers carrying furniture with tags (a stamp of authenticity) for much better pricing.  Having a label on an item is like having a certification on a piece of mid century modern furniture 
TIP:  Avoid buying obscure designers. unless you've done the research with proof there is an established market or baseline for pricing.  Otherwise stick with blue chip vintage furniture from Eames, Kagan, Wegner or Jacobson, etc. Like investments, the value of original pieces will only increase from designers of this caliber.
Networking – Seek Local Dealers – Join Mid-Century Modern Collector Organizations
Go deeper with your research and get to know your community.  Local dealers and shop keepers may be the perfect resource to pick up great deals, if you've educated yourself and know what to look for.  Also, you may have organisations in your community dedicated to interests that you seek.
Hook up with other mid-century modern collectors to share opinions and knowledge.  This could open up a whole new area of designers that you may like!  What you learn from others you have a connection with is priceless.
Final Word
Labels are your friend. If original labels are attached to vintage furniture it is a certification the piece is genuine.
Otherwise  it may have to be appraised or authorized by a pro.  There are so many reproductions on-line you have to be a careful shopper.  Do your homework and network.
Mid Century Modern Design covers a very broad and world-wide area.  Covering many different approaches to the style including kitsch to very elegant Danish furniture.
This was a very popular trend lasting at least 40 years.  Take what you've learned from networking about the designs, artifacts and products you love and incorporate them into your home.
Because basically that's what it gets down to is furnishing your home.  Buying the correct pieces can be a nice investment as well!
Tip: Keep up with trends & stay on top of up and coming designers. MCM was so classic that new artists can't help but borrow elements and incorporate into their own work. Those works may match the style you love and compliment other objects and furniture in your home.
Mid Century Modern Collectors Resources:
Mid Mod Scout Local Resources Page – Find Authentic home decor, art  and services nearby
1st Dibs – online authentic mid-century art, fashion, furniture, design
About MidModScout.com
MidModScout.com is an online resource for all mid-century modern enthusiasts. We feature helpful posts on MCM Home Décor, Interior Design, Wall Art, Textiles, Furniture, Vintage Artifacts, Graphic Arts, Modernism and more.
Collectors, Homeowners, and other lovers of MCM style art and furnishings will find our comprehensive online Resource Guides to be very useful.  So if you're looking for Home Service Pros, Appraisers, Advisors & Consultants, Auctions or other local mid-century modern experts in the Atlanta Metro area, we're a good source.  see  Resources
Who is the Mid Mod Scout?
Billy B. is an expert consultant in design and color in the Mid Century Modern style. He has degrees in Web Design from Emory University and in Advertising Design from Central Piedmont College. Since 2009, he has run his own successful freelance web design business in Atlanta, Georgia.