Mid Century Modern Design Furniture For Sale
Mid Mod Scout is a seller of vintage furniture reproductions and quality home décor with a mid century modern design feel. It is our passion and pleasure. 
Get the style you crave with celebrated mid fifties reproductions allowing high style at affordable prices
We catalog stylish products for your convenience, creativity and safe purchase through this site by highly regarded reviews and recommendation.
Mid Century Modern Design is enjoying a resurgence in popularity.  It's character of sleek clean lines, non-ornamental basic shapes and no clutter are hallmarks of classic modern design. 
Shop our curated collections to create and furnish an original mid century modern house, a small urban bungalow or college dorm all within your budget!
Did you know that Mid Century Modern style is inherent of several wide sweeping design movements that lasted over six decades!
Today you can see it in popular Mid-Century Home,  Mission Style,  Contemporary Modern and Industrial interior design styles.
Once thought to be an American decorating boon, mid-century modernism was a worldwide movement influencing art, architecture, music, literature & philosophy.  (see FAQS ) for more history and info
Mid Mod Scout curates beautiful mid century furnishings and memorable classic designs for you all in one place.
Our concept is very simple; "The Best For The Most For The Least" as Ray and Charles Eames said so eloquently.
We have the coolest job gathering this catalog of highest rated, best priced, quality products from which to choose.
Unlike original Mid Century antiques, furniture & home decor (which can be very expensive) we give you options and many ON SALE items  
What is Mid Century Modern Design?
Mid Mod style that stands the test of time
"Vision is the art of seeing what is invisible to others" – Jonathon Swift.  In the middle 20th Century (generally between 1933 to 1965) vision becomes incredibly visible in The Age of Affluence.  Modernist ideals paired with a newly industrialized world will invoke reformers to create a better place as we had never known before. During World War II,  America saved billions and was producing half of the world's goods.  A consumer society was imminent and this creative movement referred to as Mid Century Modern Design was born.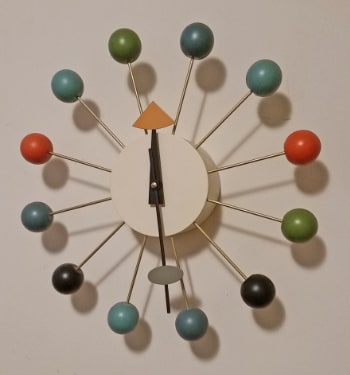 Professionals creating works for the public (designers, planners, engineers & architects) were driven to meet society's need for renewal during the post-war era. "Make it all New!"  Designers will turn America on its head by what they conceived as a prosperous new "world of the future".
Unlimited design freedom, unbridled color palettes, geometric angles, biomorphic shapes, space-aged design (including cars, fashion, and homes) were the order (or disorder) of the day.  Boundless creativity was encouraged thru advertising, design, art, and architecture.  No one expected that such an unbelievably modern styled world would emerge and become part of our everyday life.
That was in the 20th Century. But what about today in the 21st Century?  Authentic Mid-Century Modern design has stood the test of time.  Museum curators & auctioneers state that it's classic clean lines and unmatched style cannot be bettered.
This could explain a current revival in modernist furniture & home decor.  Even today, contemporary styles borrow from master designers of the 40's, 50's and 60's.  It is absolutely possible to have this Mid Mod Style now with mid-century modern furniture reproductions, original 50's antiques and Mid Century Modern homes in Georgia that are still available today!
We'll cover credible sources to purchase mid-century creations, include articles on mid-mod furniture, product reviews, MCM current events, design & designers history and other informative news for your pleasure.
The best for the most for the least.

RAY and CHARLES EAMES – designers & architects
Why Mid-Century
Modern Style Is Cool
"Make It All New" was the battle cry of culture and society at the turn of the 20th Century.  The dated "Age Of Enlightenment" ideology was rejected and clearly did not represent today's reality, nor the newly industrialized world.  Modernism was born!
History shows us that COOL things started to evolve in this period of American Modernism.  Jazz Music, Visual Arts, Feminism, Fashion, Modernist literature, photography, painting, and American Icons.
The timeless look and feel of vintage Mid Century Modern style most certainly reflected a break from old-world traditional way of creating.  Influenced by industrial design, Bauhaus and Scandinavian Modern design, there were common threads and elements that defined this movement:
• Well Designed & Simple Lines
• Form follows Function
• Biomorphic shapes
• Geometric patterns, atomic starbursts
• Melding manmade, natural materials & new technology
• Aesthetic contrasts and emphasis on texture
• Affordability to the masses
The result was a futuristic, COOL and an unimaginably modern looking world that reflected these new ideals and changing times.  This led to a massive manufacturing boon in the 1950s.  Leaving behind unmatchable designs in architecture, furniture, textiles, home décor, and even household products still available today!
WHY MID MOD SCOUT IS GREAT
• Our visitors will benefit from:  (1)  easy navigation (2) many categories to choose (3) user friendly website. Items are simple to search for and match up. Relative colors, styles, furnishings and design can be found easily to create original home decor ideas.
• Our goal is to serve you everything that is Mid Century Modern Design in one place. Including exclusive mid mod style products sales and informative articles on our blog.
• We carry the latest information on rare & original pieces, plus Mid Century reproduction decor that can be easily integrated along side original pieces and antiques.
• Our site is beneficial to you because we research products and rare finds in this American Design movement.  Also, we produce articles of interest from this glorious design era and blog on latest deals and events.
---
Welcome To Mid Mod Scout.com
Your Atlanta, GA Source for Everything Mid Century Modern
Interior & Exterior Design Advice, News & Trends on MCM Furnishings, Home Décor, Art and Style
You'll also find articles on mid century designers and influencers such Ray & Charles Eames, Gin D. Wong, and posts like How To Spot Mid Mod Design and other fun FAQs on our Mid Century Modern 101 guide.
Here at MidModScout.com, we love mid-century modern art and design as much as you do and are always trying to improve our guides or listings. If you have suggestions or notice listings that should be changed let us know.
You can also help us "spread the word" by mentioning our site to your art friends and to any galleries that you visit. Feel free to mention us and post links to Midmodscout.com on your Social Media.
Mid Mod Scout.com has been in operation since 2016 and serving the Atlanta Metro area as well as the surrounding communities of Decatur, Marietta, Roswell and Savannah, Georgia.