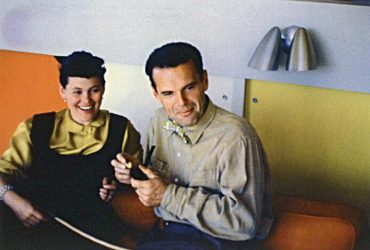 Would California modernism have been the same without Charles and Ray Eames?  This architectural and design power couple made groundbreaking and historic contributions to this style and others.
The Eames will win awards and accolades for improving and reshaping the world we live in.  So, theoretically, it could've made a huge difference!
The Eames Office opened in 1943. It was located at 901 Abbot Kinney Boulevard – Venice, Los Angeles, California.   The cornucopia of work that flowed from their office was astounding.
It included architecture, furniture, films, exhibition designs, and much much more.
They were two of the most influential modernist designers of the twentieth century.  After Charles died in 1978 and Ray died in 1988 the office closed.
Modernism
Modernism was a socially progressive movement distancing itself from all traditional forms of art, style & philosophy, etc.  Starting in the early 20th Century, it will heavily influence the 1950s and evolve into "late-modernism" after 1960.  For instance, futuristic architecture by Eero Saarinen and artworks by Pablo Picasso.
Some critics say modernism ended in 1939.  Others contest that it was post-war (World War II) and those trends continued past the '60s. There are valid arguments on both sides. We contend that the golden age of modern design thrived between 1945 – 1972.  During this era, The Eames produced some of their most iconic creations.  For example, the 1956 Eames Lounge Chair.  In the early 1980s, post-modernism evolved as a departure from the modernism movement.
Architect & Artist Turned Modernist Designers
Charles began his architectural career in the 1930s after his scholarship at Washington University in St Louis.  His advocacy towards modernist mid-century architects like Frank Lloyd Wright was unacceptable. Therefore, he was coaxed into leaving university & start his own successful architectural practice.
In the late 30s, Charles moved to Michigan to finish his architecture studies at Cranbrook Academy of Art. There he will meet the artist and graphic designer Ray Kaiser.  She studied abstract expressionist painting under Hans Hoffman and was a founding member of the American Abstract Artists group. In addition, she was an established figure in the New York modern art scene. (see my documentary review)  Eames Architect Painter Film Review
They will marry and move to Los Angeles. in 1943 Ray and Charles will open The Eames Office.  Among all of the projects that were being produced, one of them was their home The Eames House – case study house 8.   A progressive yet modest home and now a landmark of mid-century modern architecture.
Eames Office Products
The Eames House – case study house 8 was part of The Case Study House sponsored by Arts & Architecture Magazine from the 1940s-1960s. This was an experiment to bring modernist concepts to the masses.  It is now a historic landmark and the project was inspirational to architecture in the 1940s.
The Eames Office produced :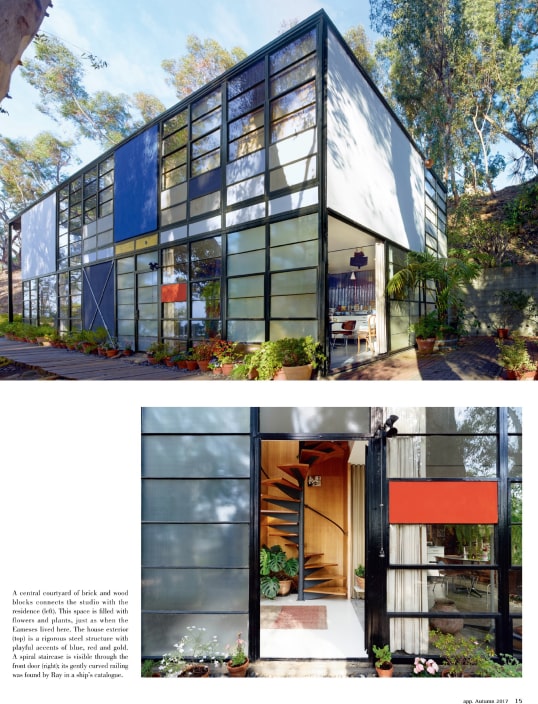 Architecture
Art
Furniture
Graphic Design
Textiles
Toys
Exhibitions
Multimedia & Film
World War II Designs
A plethora of extraordinary work and products.  The scope is too broad to cover everything here.  For further product review SEE HERE Eames official site.
Charles and Ray Eames are the epitomai of mid-century modernist designers in my book.  The furniture, like 1947 La Chaise, 1956 Eames Lounge Chair & Ottoman, 1950 Fiberglass and Molded Wood chairs and 1953's whimsical colorful "Hang it All" coat rack is sheer genius.
In its review of the century, Time magazine called the Eames Molded Plywood Chair the "Best Design of the 20th Century," describing the design as "something elegant, light and comfortable. Much copied but never bettered."  – Laura Fenton – Curbed.com  April 8, 2015
Final Word
I'll let Charles and Ray give you final thoughts in their own words.  These quotes give you a sense of their mission, purpose, and humanity. I strongly suggest you watch EAMES – The Architect & The Painter, it is a great story and documentary of these extraordinary design superstars.
A quote from Charles Eames really sums up their designs for life:
"We don't do 'art' – we solve problems," explained Charles. "How do we get from where we are to where we want to be?"
Products The Eames produced were made to be stylish yet, first and foremost, fit for purpose.
"What works good is better than what looks good because what works good lasts," – Ray Eames
Most modernist buildings are stripped of clutter, so as to show off the minimal architecture. Ray loved clutter. – Charles Eames
Ray's contribution was a lot subtler, less overtly visible to the untrained eye. She had a sharp eye for detail, he had a head full of big ideas. She sprinkled stardust on his designs and gave his grand projets the human touch. She had a feel for color and a sense of fun. Without her playful input, his creations would have seemed austere. – William Cook, BBC Culture Section – Dec 17, 2017
California's modernism movement would never be the same after Charles and Ray Eames moved to Los Angeles.
Eames: The Architect and The Painter – Trailer      
Watch FREE on YouTube NOW
More:
Visit My Pinterest Board The Storybook Office of Ray & Charles Eames
About MidModScout.com
MidModScout.com is an online resource for all mid-century modern enthusiasts. We feature helpful posts on MCM Home Décor, Interior Design, Wall Art, Textiles, Furniture, Vintage Artifacts, Graphic Arts, Modernism and more.
Collectors, Homeowners, and other lovers of MCM style art and furnishings will find our comprehensive online Resource Guides to be very useful.  So if you're looking for Home Service Pros, Appraisers, Advisors & Consultants, Auctions or other local mid-century modern experts in the Atlanta Metro area, we're a good source.  see  Resources
Who is the Mid Mod Scout?
Billy B. is an expert consultant in design and color in the Mid Century Modern style. He has degrees in Web Design from Emory University and in Advertising Design from Central Piedmont College. Since 2009, he has run his own successful freelance web design business in Atlanta, Georgia.