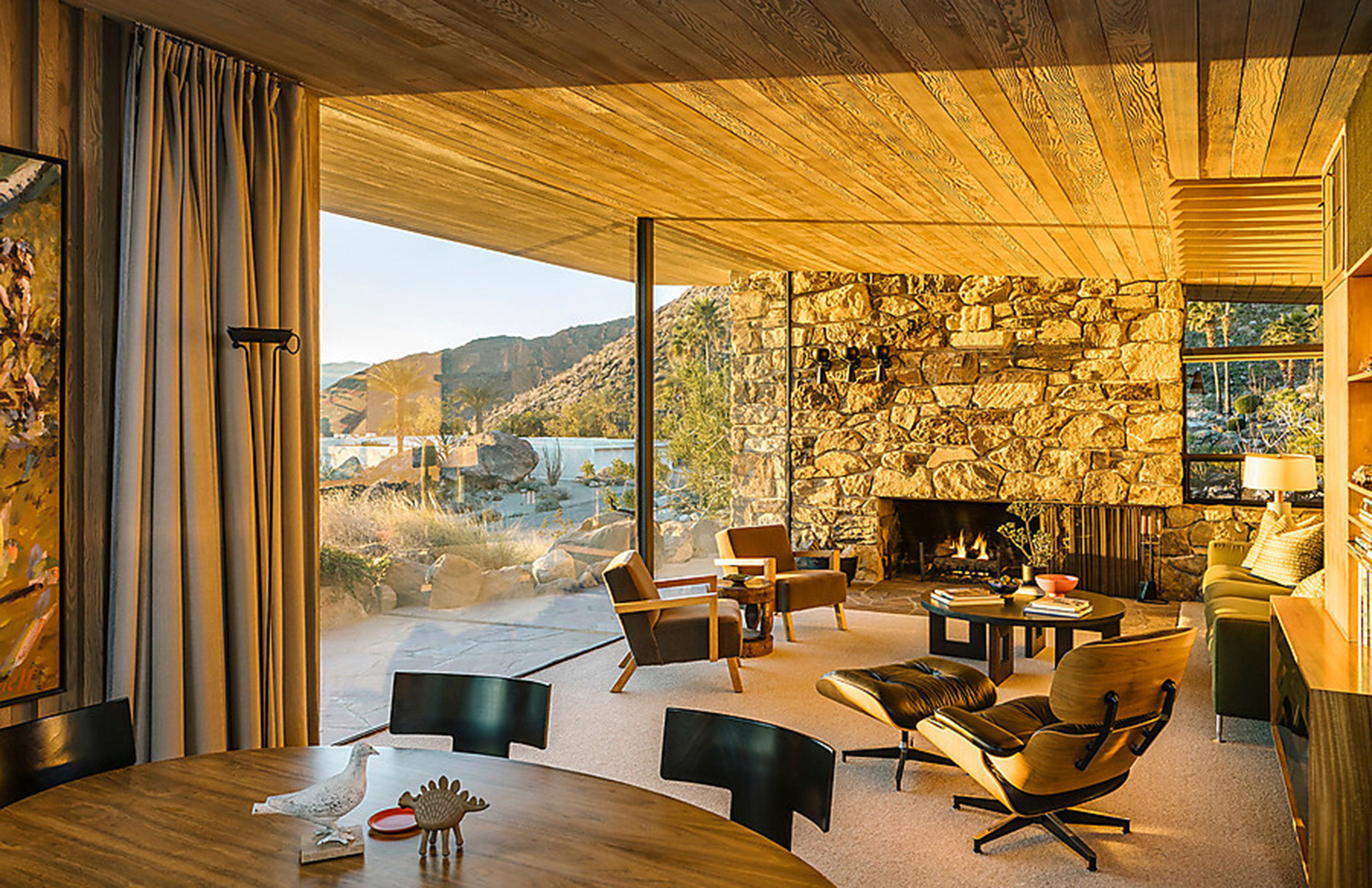 Why is mid-century modern design so popular right now?
Quote from Sotheby's Joshua Holdeman – "Midcentury pieces are simply well-designed objects, with a timeless look, [Midcentury modern designs] sit very well in contemporary homes and interiors—they still feel fresh today, they still feel modern. A lot of those pieces haven't been bettered. They still stand the test of time".
This certainly explains why a number of furniture designs, like the Eames Lounge Chair & Ottoman never went out of production.
Designer George Rohde was an innovator of modern design (Bauhaus & Scandinavian influenced) and led the Herman Miller Furniture Co. into "industrial office furniture" creations.
They are a leader in this industry, even today. 
….
Mid Modern Style – The Only Constant Is Change
American Modernism movement was needed in the 40's to meet the needs of an evolving industrial world.  Mid Century Modern had been a part of that and domineered American culture for 3 decades.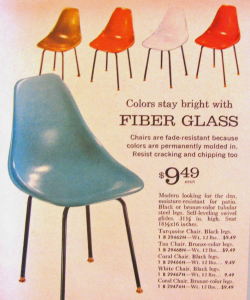 After that, it became less cutting edge or revolutionary as it had once been.
This brilliant tsunami of creativity had run its course.  It was around 1969 when Mid Century Modern was becoming less & less a design movement of contemporary society. When it was finally considered passé, formulaic & boring.
In fact, products were being reduced to cheap manufactured knock-offs of once coveted designs.  Like this Eames-ish fiber glass chair from a 1967 Sears catalog.
What would take its place? Fast forward to the 21st Century.  If you care about style and design in your home you may be choosing "Post Modern Contemporary " designs these days.
These designs integrate easily with other styles.  As Mid Century Modern was described early on,  it is even MORE minimalist (ex. no hardware for cabinetry, legless storage cabinets, etc.) More along the "industrial" side of MCM and not relying on natural elements as much.
Neutral colors (not the pops of lemon yellow, aqua and burnt orange) are found more in this contemporary style.  However, smooth sharp flat clean lines and edges are still landmark characteristics of modern design as well as Mid Century modern design.
There are 2 trains of thought here, depending on what you read. One is that MCM furniture may be too domineering over contemporary.
My opinion is:
By carefully choosing Mid Century Modern pieces they can be easily added to a modern contemporary room. The common denominators of minimalist, industrial materials and flat clean lines will compliment each other and work – The Mid Mod Scout
Timeline On The Return Of Mid Century Modern
(1983) publication of 100,000 best seller Midcentury Modern: Furniture of the 1950s – Cara Greenburg.  Creates a firestorm of interest especially in enthusiasts , realtors, designers and architects. 
She declares "The 50's are back in vogue again"!  And she reaffirms the term "Mid Century Modern" 
(1993) After a decline in office furniture sales (due to a trend of telecommuting and people creating offices at home) Knoll Furniture decides to open its SoHo showroom to retail shoppers.  Once available only to architects & designers, it is now open to public.
Knoll had always been a major manufacturer of iconic midcentury designs.  This move ( reaffirming their mid century classic collections and fine design products) led to their strongest market position to date, which was an indicator of tastes beginning to change.
(1994) In response to a budding market for copy cat knock offs and consumer frustration to obtain only vintage pieces, Herman Miller Furniture decides to reissue their iconic mid century modern designs.  George Nelson, Ray & Charles Eames, Noguchi, etc.)
So, Herman Miller for The Home went into production offering their original classic designs directly to the public. "The reissues were also stamped with a medallion to distinguish them from vintage pieces"  by CURBED
(1995) Creation of EBAY making the vintage market more accessible than ever and spiking interest in Mid Century Modern.
(1996)  publication of "Wallpaper" magazine – was proponent & preservationist of Mid-Century Modern style. Proved to be very successful. Nostalgia for furniture and architecture they grew up in sparked its readership and was well received.  (another indicator! tastes are changing) 
(1999) "Design Within Reach" (Rob Forbes) – direct-mail catalog featuring contemporary / Mid Century reproductions at affordable prices. Very popular as it gave consumers direct access to mid mod pieces (unattainable before) and the catalog was educational with bios of the product designers, etc.
The Media (popular TV "The Daily Show" – complete with Knoll Office Chairs) and AMC's popular 2007 "Mad Men" with MCM set decor Here Now, the Definitive Mad Men Design/Decor Starter Kit – Curbed,
(2000 +) The market for MCM explodes when Auction houses reach break out prices for one-of-a-kind original Mid Century Modern objects. (ex. Carlo Mollino Table sold $3.9 million, pair of Barcelona Chairs went for$24,000 at 1stdibs.com)  signifying them to be an important part of history & collectable works of art & design. 
(Today) Due to these growing events (and many more) mid century modern has woven itself into the mainstream of American design. Pieces or facsimiles of it are all around you.  The usually traditional "House Beautiful" magazine featured many pages on the "Herman Miller For Home" series in '94.  In 2007 MoMA's (Museum of Modern Art) exhibit "What Was Good Design? 1944-56" included 100 midcentury objects.
The contemporary reproductions of midcentury modern can be found for amazing prices.  This is good news for the design minded Boomers, Gen-Xer's and Millennials across the board.
These creations can (once again) be collected and appreciated by the masses.  It reminds us of a quote from designers Ray & Charles Eames "The best for the most for the least"
These well-designed objects, with a timeless look… they still feel fresh today, they still feel modern. As Joshua Holdeman of Sothebys put so eloquently.
Other Mid Century Modern Articles
https://blog.kitchenmagic.com/blog/mid-century-modern-vs-postmodern-contemporary  > VERY good article on Mid Century vs Post Modern
Art Deco – Judith Miller – Google Books
About MidModScout.com
MidModScout.com is an online resource for all mid-century modern enthusiasts. We feature helpful posts on MCM Home Décor, Interior Design, Wall Art, Textiles, Furniture, Vintage Artifacts, Graphic Arts, Modernism and more.
Collectors, Homeowners, and other lovers of MCM style art and furnishings will find our comprehensive online Resource Guides to be very useful.  So if you're looking for Home Service Pros, Appraisers, Advisors & Consultants, Auctions or other local mid-century modern experts in the Atlanta Metro area, we're a good source.  see  Resources
Who is the Mid Mod Scout?
Billy B. is an expert consultant in design and color in the Mid Century Modern style. He has degrees in Web Design from Emory University and in Advertising Design from Central Piedmont College. Since 2009, he has run his own successful freelance web design business in Atlanta, Georgia.