Modern Decor for your Home with Mid-Century Style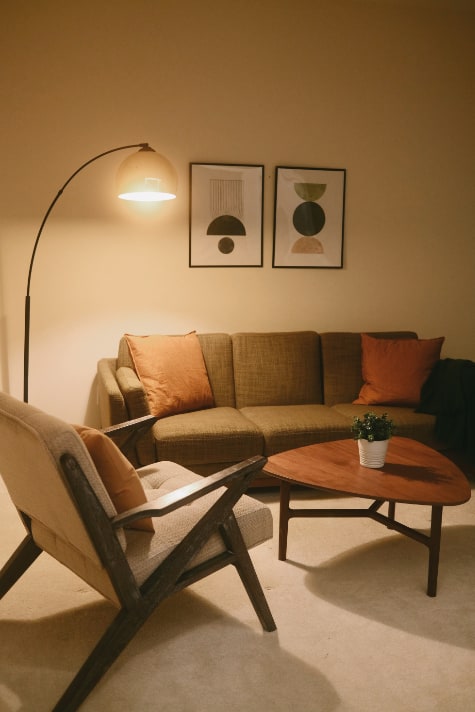 Mid Century Modern house decor takes advantage of clean lines, geometric shapes, and furniture with tapered legs.
Wood & tweed components draw focus to certain items of furnishings and Interior design.
The 1950's and also 60's brought the Mid Century Modern house into complete swing.
Slim legs as well as crushed velvet were as fashionable as the Hollywood stars of the era
This brought a higher level of creativity to the typical contemporary style.
Pieces like the Egg Chair, the Eames Lounge Chair, and the Panton Chair were comfy furnishings yet visual exciting!
Ergonomic furniture and clean-line decor thrive within a Mid Century Modern house.
Not only were design aspects lovely,  but they also were well-structured.  They provided a comfortable feeling in any type of space.
Mid Century Modern Color Palette
To begin your Mid Century Modern redesign, imagine a clean and sterile palette.  Then gradually include items that are adorned in tones of pumpkin orange, avocado green, and mustard yellow.
Select smoky grays for wall surfaces like Mad Men-inspired shades. Be bold in selecting extreme accent shades for "POP".
On the flip side, if you leave your walls lighter, you open the flexibility to be daring with your Mid Century Modern house furnishings and decor.
Although there are several products that comprise a Mid-Century Modern residence, wood may be one of the most noticeable. Both mahogany, walnut or molded plywood brings nature's best decor inside the home.
Wood grain and organic form surface areas alleviate Mid-Century's sharp lines.  Also, "teak wood" takes the spotlight in many furniture pieces.
Mid Century Modern house design was renowned because it efficiently incorporated urban design with all-natural materials. 
Exposed timber, earth-tone combinations, and also natural light are all key parts.
Open air design, plants and atriums breathe life and bring the outside into any room.
Enjoy this entertaining video on "Obsession with Mid Century Furniture"
More:
Mid-Century Modern Furnishings Are Back In Style
Photog credit: Lucas Hoang
About MidModScout.com
MidModScout.com is an online resource for all mid-century modern enthusiasts. We feature helpful posts on MCM Home Décor, Interior Design, Wall Art, Textiles, Furniture, Vintage Artifacts, Graphic Arts, Modernism and more.
Collectors, Homeowners, and other lovers of MCM style art and furnishings will find our comprehensive online Resource Guides to be very useful.  So if you're looking for Home Service Pros, Appraisers, Advisors & Consultants, Auctions or other local mid-century modern experts in the Atlanta Metro area, we're a good source.  see  Resources
Who is the Mid Mod Scout?
Billy B. is an expert consultant in design and color in the Mid Century Modern style. He has degrees in Web Design from Emory University and in Advertising Design from Central Piedmont College. Since 2009, he has run his own successful freelance web design business in Atlanta, Georgia.