Vintage Modern Furniture What To Look For
Mid-century modern furniture has been around for decades, but it's only recently become popular again. It was first introduced in the 1940s by designers like Charles and Ray Eames, and it became very popular during the 1950s and 1960s. Today, it's still considered a classic style, and many people love its clean lines and simple shapes.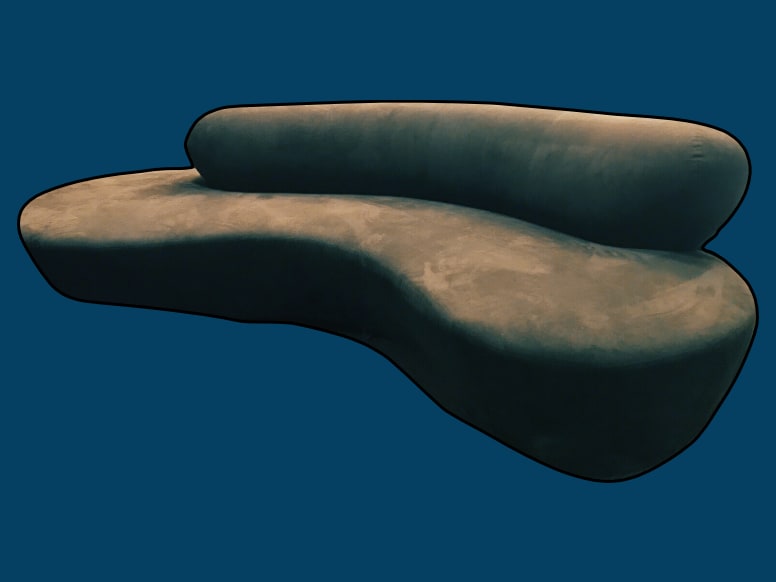 The Vladimir Kagan Directional Cloud Serpentine Sofa above is a great example of organic design. (forms and shapes from nature). This is the opposite of Geometric design which consist of squares, circles, rectangles, ovals, triangles, pentagons, hexagons, octagons, diamonds, and stars.  See: How To Spot Mid Mod Design
You Can Buy
Mid-Century Modern Furniture

At Any Price Point

If you're looking for mid-century modern furniture at any price point, there are plenty of options available. However, some pieces are more expensive than others. A few examples of high-end mid-century modern furniture include the Herman Miller Aeron chair ($1,800) and the Herman Miller Embody sofa ($2,500). These pieces are made with materials such as aluminum and stainless steel, so they tend to last longer than other styles.

The price you pay for vintage style furnishing depends on if you are a collector or a stylist seeking the Mid-Century vibe. Authentic antique pieces from the 1950s will be much more than reproduction furniture.

To illustrate I have broken this down Mid-Century Modern Furniture into 4 pricing categories.  The most expensive starts with five "$" signs and the least with two "$" signs.
💲💲💲💲💲  Authentic Antique Pieces – 1st Dibs, Charish, Ebay, Auctions, Estate Sales, Retro Passion 21

💲💲💲💲  Design Firms remanufacturing their original 50s & 60s furniture – Herman Miller, Knoll, Vitra Design Museum, Fritz Hansen, Cassina and B & B Italia

💲💲💲  Authorized Online dealers – Hive, 1st Dibs, Chairish, Vitra

💲💲  Designer Retail Reproductions – Wayfair, Etsy, Joybird, West Elm, All Modern, LexMod and Amazon
Obviuosly there is a wide range of pricing and availability for this design style. Your budget and interior space will determine what favorite pieces would fit best. 
**See bottom of this page for complete list of links to the above dealers – Thanks!
1950's – 60's MCM Furniture
Tips On What To Look For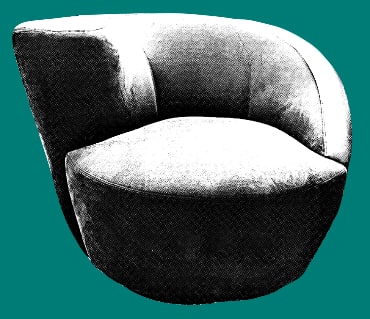 It might be helpful to think of your budget as you begin looking for mid mod style.  Authentic antique pieces can be very expensive so you want to shop for goods you're really in love with.
Because, they will last a long time and can be long term investments for you and your family.  See: How MCM Collectors Make The Best Finds
You could dedicate a whole website on how to buy antique modern furniture. But, a few quick tips would be to look for popular designers like Eames, Kagan, Wegner or Jacobson, etc.
These will be easier to certify as originals and many times have tags on the furniture verifying that.
Buy from Design Firms remanufacturing their own original 50s & 60s MCM furniture to ensure you are getting an authentic piece.
There are also Authorized online dealers that are licensed to market vintage designer products.
When it comes to a tight budget, you can still get the modern style you crave! There are tons of Quality Reproductions mid-century products that are very well made at reasonable prices.
Original MCM Furniture (can be expensive)
Originals Currently Re-manufactured
Authorized Dealers
1st Dibs
Charish
Quality Reproductions (reasonably priced)
About MidModScout.com
MidModScout.com is an online resource for all mid-century modern enthusiasts. We feature helpful posts on MCM Home Décor, Interior Design, Wall Art, Textiles, Furniture, Vintage Artifacts, Graphic Arts, Modernism and more.
Collectors, Homeowners, and other lovers of MCM style art and furnishings will find our comprehensive online Resource Guides to be very useful.  So if you're looking for Home Service Pros, Appraisers, Advisors & Consultants, Auctions or other local mid-century modern experts in the Atlanta Metro area, we're a good source.  see  Resources
Who is the Mid Mod Scout?
Billy B. is an expert consultant in design and color in the Mid Century Modern style. He has degrees in Web Design from Emory University and in Advertising Design from Central Piedmont College. Since 2009, he has run his own successful freelance web design business in Atlanta, Georgia.