Mid-Century Design Trends Make Desirable Homes
Atlanta mid-century modern neighborhoods were built around the 1950s and 1960s, and many people love them for their clean lines, simple designs, and timeless appeal. These homes are also known for their affordability, which has made them desirable for home-buyers all over the country.
The 1950's were an exciting time for home design.
In the 1950s, Americans were looking for ways to simplify their lives and make their homes more efficient.
This was reflected in the architecture of the period, with sleek, streamlined designs that emphasized function over form.
Many mid-century modern neighborhoods in Atlanta are still filled with these homes, and they continue to draw new buyers every year.
These include the Westside, Buckhead, Virginia Highland, East Lake Highlands, and Druid Hills areas.
There are several reasons why these neighborhoods are special.
First, they offer an abundance of green space.
Second, they are close to downtown Atlanta.
Third, they are located near some of the best schools in the city.
Also, many people love living in these neighborhoods because they feel like they live in a small town while being just minutes away from everything.
These neighborhoods have been around since the early 1900's.
Mid-century modern neighborhoods are often located near downtown areas, where there are plenty of amenities such as restaurants, shops, parks, and other attractions.
They also tend to be close to major highways, making commuting easy.
These homes have been designed by architects who were inspired by mid-century design trends. They offer an eclectic mix of modern and traditional elements.
Many of them are close to downtown Atlanta.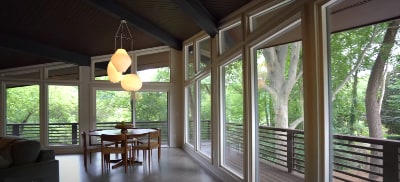 These neighborhoods were designed with an eye toward efficiency and functionality. Homes were built with large windows and open floor plans, allowing natural light to flood into the rooms.
This design was meant to make living spaces feel larger than they actually are.
Mid-Century Modern Homes in Atlanta are some of the most sought after homes in the city. Find out why they're so special!
Get inspired by some of the best examples of Atlanta mid-century modern neighborhoods!
More:
Vintage Furniture Shops Atlanta – Shops and Where to Find Them
Mid Century Modern Homes In Georgia -What Are They?
Moving To Atlanta? Try Our Resources Page for Services Near Me
Photog credits – Trend, Rajesh Pandit
About MidModScout.com
MidModScout.com is an online resource for all mid-century modern enthusiasts. We feature helpful posts on MCM Home Décor, Interior Design, Wall Art, Textiles, Furniture, Vintage Artifacts, Graphic Arts, Modernism and more.
Collectors, Homeowners, and other lovers of MCM style art and furnishings will find our comprehensive online Resource Guides to be very useful.  So if you're looking for Home Service Pros, Appraisers, Advisors & Consultants, Auctions or other local mid-century modern experts in the Atlanta Metro area, we're a good source.  see  Resources
Who is the Mid Mod Scout?
Billy B. is an expert consultant in design and color in the Mid Century Modern style. He has degrees in Web Design from Emory University and in Advertising Design from Central Piedmont College. Since 2009, he has run his own successful freelance web design business in Atlanta, Georgia.