Gin Wong (1922 – 2017)

As part of Asian American and Pacific Islander Heritage Month, here at Mid Mod Scout, we wanted to showcase the iconic work of the most overlooked Mid-Century Modern architects, Gin Wong.
Gin D. Wong, was a Fellow of the American Institute of Architects (FAIA) and one of several Asian American designers who helped define and influence modernist architecture in mid-century Los Angeles and other parts of Southern California.
Wong's career spanned over sixty years, beginning with his work as a designer in the prestigious firm of Pereira & Luckman Associates and continuing to his own firm, Gin Wong Associates, resulting in some of L.A. County's most iconic buildings.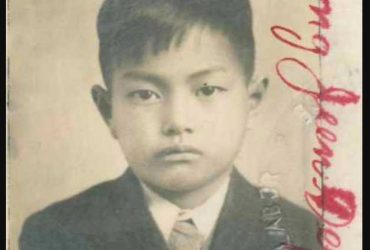 Gin Dop Wong was born on Sept. 17, 1922, in Taishan, Guangdong, China.
Some accounts say he immigrated to Los Angeles with an aunt at age 9 and lived with her until his widowed mother and sister arrived.
Other records show that he sailed on the steamship SS President Coolidge from Hong Kong accompanied by his mother Lee Shee. Lee's husband Wong Shoo Tan is listed as paying for the tickets.
In either case, as a child, Gin excelled in mathematics, science and drawing. In fact, he once said he found it easier to draw a word than spell it.
In 1942, Wong graduated from John H. Francis Polytechnic High School and went to study engineering at Los Angeles City College before serving in the Army Air Corps. While in the service, he became a naturalized citizen and changed his name to Gin Dan Wong.
The Los Angeles Times, September 8, 2017, wrote that Wong "Served in the Army Air Corps during World War II, participating in major air battles over Japan in 1945 as a lead crew navigator and radar bombardier."
It was during his stint as an Army navigator that a platoon member whose father was an architect noticed Wong's skills in math and art (he was always drawing) and suggested that Wong study architecture.
After the war, he studied at the University of Illinois and graduated from the School of Architecture at the University of Southern California.
But in an interview, years later, he said he recognized how helpful being a navigator had been to his work as an architect…"I had to learn how to get from here to there," he told The Los Angeles Times in 1974. "I had to know how much fuel would be needed and how long the trip would take. The big message was to minimize the odds to survive."
And it was his skill in minimizing that helped Wong become of an indispensable lead designer for William Pereira at two of his firms, Pereira & Luckman and William L. Pereira & Associates. In this role, he was instrumental in creating some of Los Angeles' greatest modern structures.
….
LAX Theme Building
While many more famous architects claim credit for their part in the design of the LAX Theme Building, according to an article from 2015, the Los Angeles Times research of the building's construction notes, showed it was Gin Wong who led the project's large design team. (Wong is the first man on the left, with noted Black American architect Paul William, is the next to last man on the right)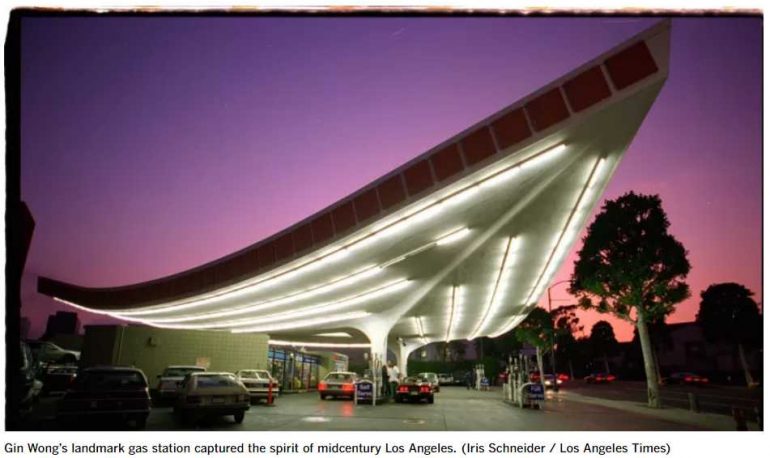 Union/76 Gas Station
The swooping futuristic wing-like canopy design was originally planned for a different structure at LAX. When that project didn't work out, Wong recycled the Googie-style concept for a humble gas station in Beverly Hills.
Trudi Sandmeier, the director of graduate programs in heritage conservation at the U.S.C. School of Architecture, said of Wong's work, "He had a very refined sense of style in terms of his design aesthetic, and if you look at what he did pre-1970s, he had a clear eye for what he wanted to see," She added, "The gas station was elegant and beautiful, and that was his hallmark."
ARCO Tower
"I happen to believe in simplicity," Los Angeles architect Gin Wong once told an interviewer. And this elegant simplicity is easily seen in one of the most ambitious projects undertaken by Wong after forming his own firm, this office tower was constructed in 1989 and remains one of the tallest structures west of the 110 freeway.
Transamerica Tower
And Wong's love of simple, clean lines can also be seen in the peaked silhouette of the Transamerica Pyramid in San Francisco, that he designed.
…
Gin D. Wong struggled with poverty and racism to become one the most influential architects and designers in Southern California and so we are proud to help bring to light some his most famous landmarks.