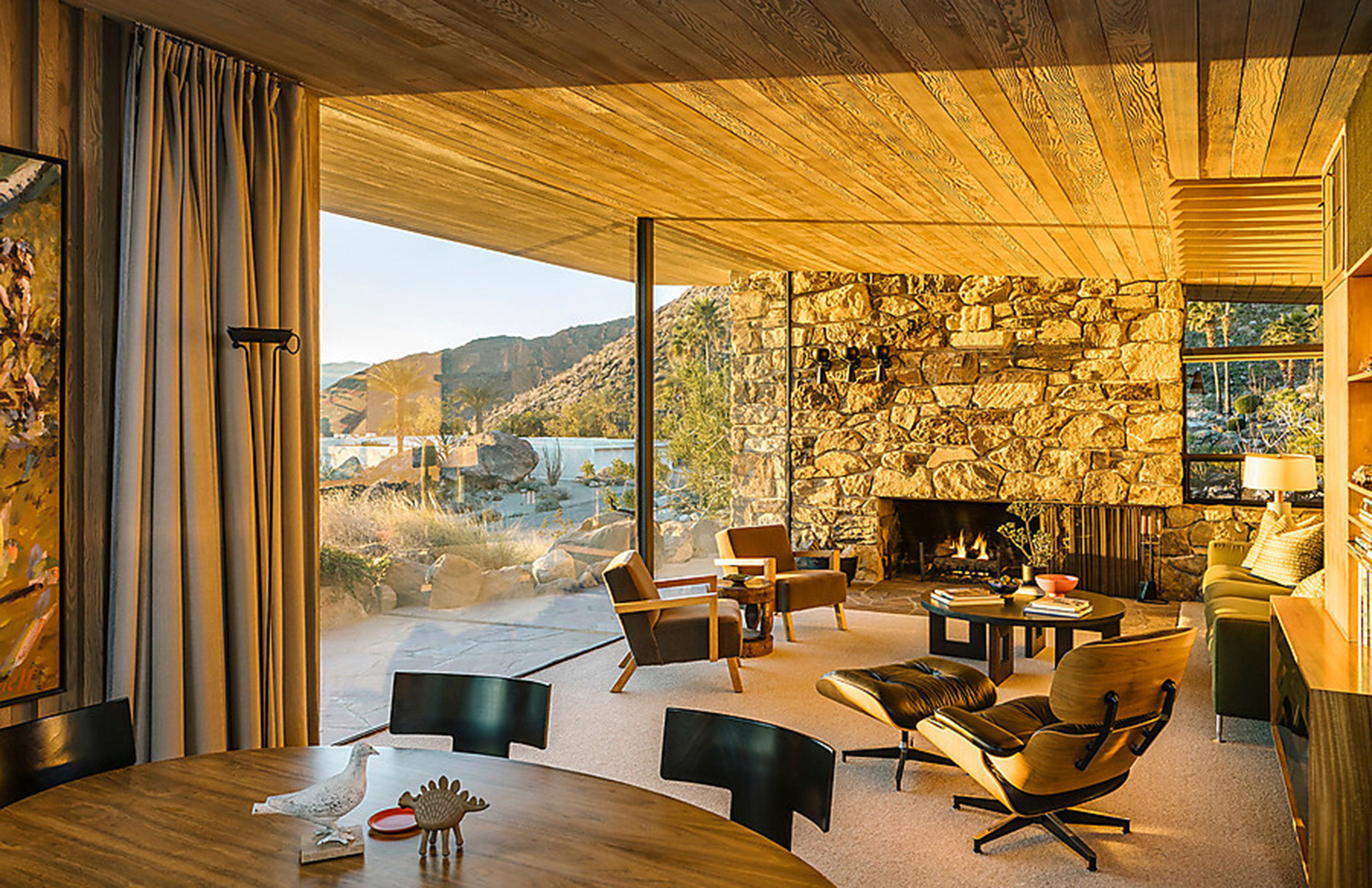 What is Mid Century Modern Design?
"Make it new!" poet, Ezra Pound
"Mid Century Modern" was a style descriptor used for the post-war era (1945 -1965) of this far reaching movement.  It will influence modernist representations of  building styles, interior & graphic design, textiles, fashion, music, furniture, home decor,  automobiles and even kitchen appliances!
At the turn of the 20th Century, The American Modernism movement made widespread philosophical, cultural and stylistic changes in society and the United States. 
Conventional forms of design, architecture, art,  literary works, religious beliefs, philosophy, social structure, hustle & bustle of day to day life, also the sciences, were outdated and replaced with modernist invention and ideals to meet the needs of an evolving industrial world. 
Some Images Allow Descriptions With Click
| | | | |
| --- | --- | --- | --- |
| | | | |
| | George Nelson Bubble Couch | Geometric Flat Roof Palm Springs Home | 1950s Style Small Appliances |
| | | | |
| Organic w/some Geometric table | Geometric w/some Organic Textiles | Eames Organic Styled Chair | Organic Parchment Paper Lamp |
| | | | |
| Organic w/some Geometric Textiles | | | |
| | | | |
| The Space Age - Album Cover | The Jet Set - Album Cover | | |
Peaking in the 1950's, Mid-Century Modern will affect the look and style of everyday life in American culture.  (Turn of the century design was more influenced by Art Deco, Scandinavian, French and German modernity).  
Academics and museums alike recognize Mid-Century Modern as a major design movement of consequence and unmistakably American.
About MidModScout.com
MidModScout.com is an online resource for all mid-century modern enthusiasts. We feature helpful posts on MCM Home Décor, Interior Design, Wall Art, Textiles, Furniture, Vintage Artifacts, Graphic Arts, Modernism and more.
Collectors, Homeowners, and other lovers of MCM style art and furnishings will find our comprehensive online Resource Guides to be very useful.  So if you're looking for Home Service Pros, Appraisers, Advisors & Consultants, Auctions or other local mid-century modern experts in the Atlanta Metro area, we're a good source.  see  Resources
Who is the Mid Mod Scout?
Billy B. is an expert consultant in design and color in the Mid Century Modern style. He has degrees in Web Design from Emory University and in Advertising Design from Central Piedmont College. Since 2009, he has run his own successful freelance web design business in Atlanta, Georgia.