Is it true that mid-century Danish style sofa beds/couches are very uncomfortable to sit and sleep on?
Actually, if you are buying original vintage Danish style sofa beds & couches, yes, you may find them to be a bit uncomfortable, depending on how much its being used.
Generally most have large cushions.  But remember, this is an antique. Bedding had not evolved to a great comfort level due to technology or materials available of the day.  I would say…same goes for couches.
If your looking for comfort you have a couple choices here.  First (depending on the value of the piece and/or changing the integrity of the elements is doable) you could modify and upgrade it. Unless, this is an investment which if altered could decrease its value.
Number #2 is to buy re-issue mid-century pieces which are newly made to spec from original  manufactures.  Also there are incredible new manufactures complimenting the Mid Century Style to a fault.
As if they were taking mid-century design blueprints and adding more comfort that consumers want. Combining the old with the new. Joybird is a good example.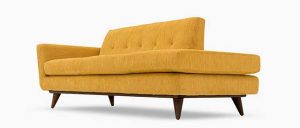 About MidModScout.com
MidModScout.com is an online resource for all mid-century modern enthusiasts. We feature helpful posts on MCM Home Décor, Interior Design, Wall Art, Textiles, Furniture, Vintage Artifacts, Graphic Arts, Modernism and more.
Collectors, Homeowners, and other lovers of MCM style art and furnishings will find our comprehensive online Resource Guides to be very useful.  So if you're looking for Home Service Pros, Appraisers, Advisors & Consultants, Auctions or other local mid-century modern experts in the Atlanta Metro area, we're a good source.  see  Resources
Who is the Mid Mod Scout?
Billy B. is an expert consultant in design and color in the Mid Century Modern style. He has degrees in Web Design from Emory University and in Advertising Design from Central Piedmont College. Since 2009, he has run his own successful freelance web design business in Atlanta, Georgia.