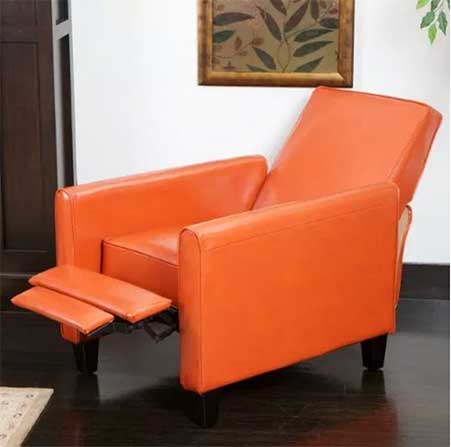 Where can I get a mid-century modern recliner?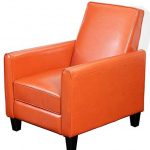 Amazon Paid Link, Houzz, Wayfair, Joybird, Modway, Dot & Bo,  and West Elm.
Above are some very good resources for reproduction Mid Century Modern products.  They are not replicas from authentic MFRs, yet at a medium price point with many highly regarded customer reviews.
The mindset here is "best for least". The lines between Mid Century Modern and modern contemporary have blended with many common denominators.  Notice the low slung style, clean lines and burnt orange color of this contemporary Davis Leather Recliner.
All the earmarks of MCM design. Actually, this could be considered original neo-Mid Century Modern style.
When doing research and decorating your home, you will find many MFRs follow this protocol creating their own MCM style with an homage to mid century design.
About MidModScout.com
MidModScout.com is an online resource for all mid-century modern enthusiasts. We feature helpful posts on MCM Home Décor, Interior Design, Wall Art, Textiles, Furniture, Vintage Artifacts, Graphic Arts, Modernism and more.
Collectors, Homeowners, and other lovers of MCM style art and furnishings will find our comprehensive online Resource Guides to be very useful.  So if you're looking for Home Service Pros, Appraisers, Advisors & Consultants, Auctions or other local mid-century modern experts in the Atlanta Metro area, we're a good source.  see  Resources
Who is the Mid Mod Scout?
Billy B. is an expert consultant in design and color in the Mid Century Modern style. He has degrees in Web Design from Emory University and in Advertising Design from Central Piedmont College. Since 2009, he has run his own successful freelance web design business in Atlanta, Georgia.