Snow Ball Machine – Homemade Fun for Whole Family
Shaved Ice Snow Cone Maker Review – Is it Worth Buying?
Turn your kitchen into an ice cream truck and serve your favorite snow cone recipe with the Nostalgia RMS602 Cone machine.  Have some cool, creamy shaved ice treats just like the old snow cone place you visited as a kid.    Make these popular frosty desserts in the convenience of your own kitchen!
I remember getting them at the circus (boy does that date me) and SNO Ball stands by the roadside on my way to Granny's house in rural North Carolina. The SNO CONE (how it was spelled) stands might be next to a fruit stand which were plentiful on a country highway.
They've come a long way baby since 1916 and this funny little washed out Drive -In intermission clip. (for your entertainment!).  And they've always been popular with everyone.
Shaved ice is the best!  Snowballs in the past could be clunky, hard to eat with big pieces of ice.  This unit creates a cool refreshing treat on a hot summer's day. A snow cone recipe with fluffy, snowy shaved ice with a cornucopia of flavored syrups to go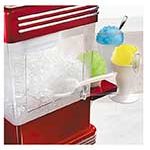 on top. What could be better? I really liked a rainbow of syrups and flavors on mine.  It was always so colorful and tasty.
So, the answer is absolutely yes. In this review, we discover you can make these professional icy treats at home.  It is convenient, easy to clean up and makes them just like your favorite snow cone place or off the local ice cream truck. Delicious!
Nostalgia RSM602 retro style and color – who cares?
Nostalgia is a perfect name for this brand of retro electrics. When you look at this ice cone machine it brings back memories, of movie theatres, Drive – Ins, State Fairs, etc.  With its metal stripes, ruby red color and deco rounded corners it looks like it jumped right out of the 1950's, or earlier.  If you're too young to have an emotional attachment to such objects, you'll be seeing something very cool for the first time!
Of course you agree this is a handsome appliance, but when it comes to features this unit really has it covered. Very high ranking with Amazon customers and with us. This is a number one seller from a well respected company Nostalgia.   Check this video – here it is in action.
Nostalgia RSM602 Retro Snow Cone Maker Options
With the Chrome steel reducing blades rapidly shave ice into fluffy, snow-like ice. It also works great with all Nostalgia Snow Cone Kits! (Snow Cone Package-SCK800, SCS160-Snow Cone Syrups, Straws and Cups-SCSTRAWCUP20)
Makes 20 (Eight oz.) snow cones & has a 360 degree clear view chamber.
Works with ice cubes from your fridge and has a user friendly serving door for scooping shaved ice.
Included are 2 (Eight-oz.) reusable plastic cones and ice scoop – Cone shelf holds 2 snow cones with automatic safety switch & handy countertop design.
**(This product is for sale here)**   BUY NOW
What we like?
It uses regular ice out of your freezer (or) gas station bagged ice
Ice texture is superior with this machine due to stainless steel cutting blades to make your snow cone recipe perfect!
Makes "snowy" shaved ice just like your favorite snow cone shack or Ice Cream Truck
It is portable and not too big to pull out everyday if you wish.
No problem operating or cleaning the unit.
Comes with accessories including a scoop
Has capacity to make 20 snow cones
What we don't like?
Shelf only holds 2 snow cones
Door and latch design could be improved
50/50 but, seems to work better with crushed ice or smaller ice cubes
Nostalgia RSM602 Retro Snow Cone Maker Product specs chart
Product Dimensions 12.5 x 10.5 x 15.5 inches
Item Weight 10.49 pounds
Manufacturer Emgee
Item model number RSM602
**(This product is for sale here)   BUY NOW
Is there support after the sale? Guarantees/returns?
While Nostalgia Products doesn't support this product directly at the consumer level, they do offer User Manuals and Parts Catalogs to their customers.
Our recommendation:
Rating 4 stars    ★★★★
We recommend this highly. One of those things that's fun for the whole family.  BBQ's, birthday parties, or just an outside family get together. The fun factor you can't deny.  Large enough to make 20 snow cones with the consistency of fluffy, snowy shaved ice.  Stylish, portable and easy to clean.
Where to get this product
**(This product is for sale here)   BUY NOW
◆ MORE ◆
History SNO CONES, SNOW BALLS, SHAVED ICE
About MidModScout.com
MidModScout.com is an online resource for all mid-century modern enthusiasts. We feature helpful posts on MCM Home Décor, Interior Design, Wall Art, Textiles, Furniture, Vintage Artifacts, Graphic Arts, Modernism and more.
Collectors, Homeowners, and other lovers of MCM style art and furnishings will find our comprehensive online Resource Guides to be very useful.  So if you're looking for Home Service Pros, Appraisers, Advisors & Consultants, Auctions or other local mid-century modern experts in the Atlanta Metro area, we're a good source.  see  Resources
Who is the Mid Mod Scout?
Billy B. is an expert consultant in design and color in the Mid Century Modern style. He has degrees in Web Design from Emory University and in Advertising Design from Central Piedmont College. Since 2009, he has run his own successful freelance web design business in Atlanta, Georgia.