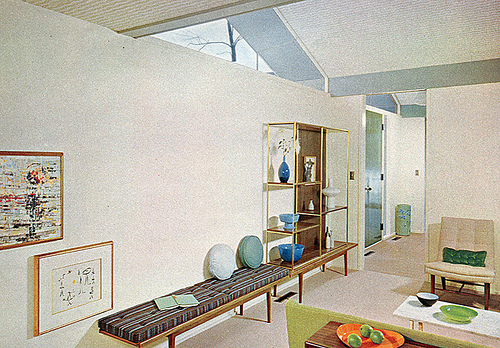 We just moved into a lovely mid-century modern house and need help with decorating tips
I would break it down into these categories:
Tip#1 – Color Schemes – Mid Mod Colors – bright hues including pops of red, olive, orange, aqua and rust.

 

Earth tones of brown, tan and pale pink are also popular (see walls colors advice above)
Here is a wonderful article to get those creative juices flowing:  The Best Color Palettes for Your Mid-Century Modern Home   check out the categories  "Contemporary Hues" – "Citrus Tones" – "Neutral with Pops" – "Multicolored" – "Black White Natural" very nice spring board to get things started.
Tip#2 – Biomorphic Shaped Decor (taken from organic shapes found in nature like plants and curvy lines such as in human anatomy.) wall art, furniture, sculpture, etc.  BLOOMING SUNFLOWER LAMP
Tip#3 – Modernist or Contemporary approach – get into that mindset and you will find matching old (mid century modern antiques) with contemporary styles of today can be easily done.
Tip#4 – Living Room – try adding different "heights" of furniture to keep a room from appearing static. Try high Arc lamps overhanging  low slung couches, chairs and coffee table to open up the room.
Tip#5

 

Accessorizing – pops of citrus color (as in pillows) in the living room and bringing nature inside the home (such as plants and rocks) was an organic characteristic of MCM concepts.
Tip#6 – Know Your Home – Have respect

for the architectural period of the dwelling which you reside.  Knowing what period your home (or neighborhood) was built helps you respect the building and decorate it authentically.
Tip#8 – Furniture – Mid century designs will always carry clean horizontal lines, un-ornate simple forms, forms that follow function, minimalist organic effect. A timeless look.

 

Note: Eames Chairs, George Nelson Clocks, Phillip Lloyd Powell triangular coffee tables.