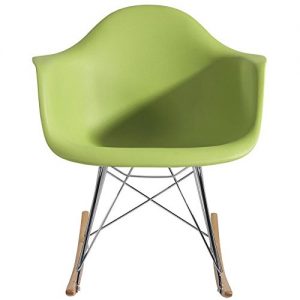 The Organic Simple Shapes Of Mid Century Chairs
Some have an egg shape, some have a swan shape (keeping with mid century design's affinity for forms in nature).
Some of The Eames Side Chairs designed for Herman Miller are most striking and recognizable examples of mid century modern chairs.
Some of the images are iconic and you may have seen them before.
Famous mid century chair designers include:
 Arne Jacobsen (Egg And Swan Chairs)
Hans Wegner (Shell chair / Smile Chair)
Ludwig Mies van der Roh (Barcelona Chair)
Eero Saarinen (Womb Chair)
Eero Aarnio (Ball & Bubble Chairs)
Ray and Charles Eames. (Molded Plywood & Fiberglass Chairs)
Below are most unique and original chair designs from post-war middle 20th Century.  You may notice that,  the rounded shapes and design of these selections lean more towards organic forms found in nature.
Some of these Mid Century Modern Chairs are available as reproductions on sale NOW!   Click thru the images for full descriptions, availability and pricing. Get your Mid Mod on today!
Eames Style Fabric Arm Chair

Hans Wegner (Shell chair / Smile Chair) Amazon Paid Link

Ludwig Mies van der Roh (Barcelona Chair)

Christopher Knight Accent Chair

Eames Molded Plywood Lounge Chair- Amazon Paid Link

Arne Jacobson (Egg And Swan Chairs)

Ray and Charles Eames Office Chair

Jorge Ferrari-Hardoy-Butterfly Chair
Get a crash course on 16 Most Popular Mid Century Modern Chairs from 1stdibs here:  1stdibs.com
About MidModScout.com
MidModScout.com is an online resource for all mid-century modern enthusiasts. We feature helpful posts on MCM Home Décor, Interior Design, Wall Art, Textiles, Furniture, Vintage Artifacts, Graphic Arts, Modernism and more.
Collectors, Homeowners, and other lovers of MCM style art and furnishings will find our comprehensive online Resource Guides to be very useful.  So if you're looking for Home Service Pros, Appraisers, Advisors & Consultants, Auctions or other local mid-century modern experts in the Atlanta Metro area, we're a good source.  see  Resources
Who is the Mid Mod Scout?
Billy B. is an expert consultant in design and color in the Mid Century Modern style. He has degrees in Web Design from Emory University and in Advertising Design from Central Piedmont College. Since 2009, he has run his own successful freelance web design business in Atlanta, Georgia.