Mission Style Desk For Computer and Writing by Leick has been reviewed on Amazon very highly. We recommend this product from our viewpoint of "best quality for best price". As you peruse some of the reviews you will pick up that this is heavy solid wood and is a quality piece for the price and easy to assemble.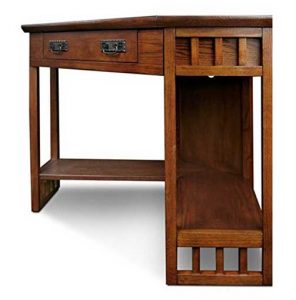 Also, you will see "this mission style desk is beautiful!" mentioned many times. It has been suggested that you may need some help with assembly simply because …the desk is too heavy. Now, to us that is a GOOD problem!  (if you know what i mean.)  But actually many reviewers repeat that the assembly very easy.
I am going to list a few more customer quotes here and followed by a bullet list of its features.   BUY NOW!
I love this desk. It fits in a small corner and is really pretty. It is high quality for the cost and super easy to assemble
OMG! Quality product, Simple Assembly, quick delivery, awesome price!!! I couldn't ask for more!
It is all solid wood as described, well sanded and evenly finished. All joints meet smoothly
I recommend this desk. Great purchase for the price.
Hand applied mission oak finish on hardwood solids. A 1-inch thick solid top is made to use, and a keyboard drawer is crafted with wood solids, ball bearing full extension glides, and stunning finished metal hardware.

Pull out drawer with a drop front lid for a laptop or keyboard and ball bearing full extension drawer glides

Lower shelf for a computer tower and/or printer

Wire retaining grommet on the back allows you to manage cords from the drawer

Simple, knock-down assembly ensures that setting up is a snap. Simply attach the legs, slide the drawer in, and you're done!

Dimensions: 24″ W x 48″ L x 30.25″ H

Hand applied mission oak finish on hardwood solids       

BUY NOW!
Again we highly recommend this mission style desk. It goes great with other mission style (especially Frank Lloyd Wright pieces) , mid century modern and contemporary design. This is an example of what our goal is:  The best for the most for the least.  High style, quality and affordable.   Click link to shop more Mission Style
About MidModScout.com
MidModScout.com is an online resource for all mid-century modern enthusiasts. We feature helpful posts on MCM Home Décor, Interior Design, Wall Art, Textiles, Furniture, Vintage Artifacts, Graphic Arts, Modernism and more.
Collectors, Homeowners, and other lovers of MCM style art and furnishings will find our comprehensive online Resource Guides to be very useful.  So if you're looking for Home Service Pros, Appraisers, Advisors & Consultants, Auctions or other local mid-century modern experts in the Atlanta Metro area, we're a good source.  see  Resources
Who is the Mid Mod Scout?
Billy B. is an expert consultant in design and color in the Mid Century Modern style. He has degrees in Web Design from Emory University and in Advertising Design from Central Piedmont College. Since 2009, he has run his own successful freelance web design business in Atlanta, Georgia.