Throughout the project you'll always know exactly where things stand and where they're headed. Every project is assigned a dedicated project manager to keep things on target and keep you informed..
Meet the cool team member
What's the difference between contemporary vs modern style?  Designers consider modern as an era that is already passed and contemporary as being what's trending in homes today and now.
Mid Century "Modern" style is a perfect example. It was popular during the 1950s.  But designers also consider Art Deco of the 1920s and vintage creations from 1970s to be "modern" as well.  Although MODERN literally means present day and contemporary defined by Merriam Webster.
OK, let's add MCM, Industrial, Mission, International, Bauhaus, Brazilian and Scandinavian modern design into the mix. And, let's not forget that ALL homes built TODAY are considered modern (in the literal sense of the word)
Mid Century Modern could easily be a reflection of all of the above styles. But the American version was less formal, more organic and incorporated nature.
Combining an authentic style with new "trendy" styles can work & are acceptable.  Because some modernist design movements have very similar characteristics that overlap.   Your conception of the word "modern" and personal taste will be important on how you furnish and decorate your home.
Here are some guidelines to help with understanding a contemporary vs modern space. Notice the first 3 elements of each list are identical.
10 Modern Style Features
Architectural, furnishings and home decor of Modern style promote "form follows function". In other words, its design (form) should reflect its practical purpose (function). Home design with a connection to nature and un-ornate simple clean lines were the rule of the day.
Minimalist design
Unfussy clean architectural lines
Open space floor plans
Unadorned – non decorative – uncluttered spaces
Bringing the outside in – like extending landscape areas inside the home
Exposed structural elements. Wood beams, unpainted wood, concrete, metals, pipes
Clean vertical & clean horizontal lines eliminating decorative round edges.
Décor colors are monochromatic (which could be very bright) neutral colors for wall paint – pops of extreme accent colors and textile patterns from the 50's are popular
Furnishings are low slung horizontal lines
Broad low sloping gable roofs or even flat roofs.
10 Contemporary Style Features
Contemporary is now!  The only constant is change. It is forward-looking and pulls inspiration from many design movements not just one era.  Elements from Mid-Century Modern, Art Deco or postmodernism styles could easily be incorporated into a contemporary space. Yet, it is destined to evolve and responds to the times.
Minimalist design
Unfussy clean architectural lines
Open Space floor plans
Contemporary pieces may focus on form (the design) more than its practical purpose.  True modern era designed objects rely on function first.
High contrast colors like black & white (or) red and blue are good choice.
Light Woods over dark ones are preferred
Decorative and curves are accepted in contemporary home style
18% of new home construction in Atlanta , Ga is contemporary architecture style – very popular
Expansive, large, tall windows
Robust geometric shapes are encouraged -furnishings smooth glossy finish
Through this article, my hope is that you come away with understanding some common threads between MODERN and CONTEMPORARY styles.  At its core, the most important aspect of both  is simplicity. You will notice that open spaces, natural light / large windows, decluttering and natural materials are also common denominators.
So, are modern contemporary homes different?  It's probably a misused term according to designer experts.  After hours of research on this article, my opinion is "defining modern style is a never ending debate".
The bottom line is knowing how both work in tandem and are capable of creating a much more original and creative home than you ever imagined.  This style is popular now because of its classic design elements and minimalist uncluttered look.
Happy house hunting & decorating! Good Luck!
MORE
40 Stunning Contemporary Bathroom Ideas
The Difference Between Modern and Contemporary Home architecture
How To Choose Contemporary vs Modern Appeal
Snow Ball Machine – Homemade Fun for Whole Family
Shaved Ice Snow Cone Maker Review – Is it Worth Buying?
Turn your kitchen into an ice cream truck and serve your favorite snow cone recipe with the Nostalgia RMS602 Cone machine.  Have some cool, creamy shaved ice treats just like the old snow cone place you visited as a kid.    Make these popular frosty desserts in the convenience of your own kitchen!
I remember getting them at the circus (boy does that date me) and SNO Ball stands by the roadside on my way to Granny's house in rural North Carolina. The SNO CONE (how it was spelled) stands might be next to a fruit stand which were plentiful on a country highway.
They've come a long way baby since 1916 and this funny little washed out Drive -In intermission clip. (for your entertainment!).  And they've always been popular with everyone.
Shaved ice is the best!  Snowballs in the past could be clunky, hard to eat with big pieces of ice.  This unit creates a cool refreshing treat on a hot summer's day. A snow cone recipe with fluffy, snowy shaved ice with a cornucopia of flavored syrups to go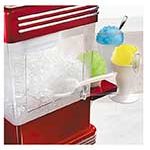 on top. What could be better? I really liked a rainbow of syrups and flavors on mine.  It was always so colorful and tasty.
So, the answer is absolutely yes. In this review, we discover you can make these professional icy treats at home.  It is convenient, easy to clean up and makes them just like your favorite snow cone place or off the local ice cream truck. Delicious!
Nostalgia RSM602 retro style and color – who cares?
Nostalgia is a perfect name for this brand of retro electrics. When you look at this ice cone machine it brings back memories, of movie theatres, Drive – Ins, State Fairs, etc.  With its metal stripes, ruby red color and deco rounded corners it looks like it jumped right out of the 1950's, or earlier.  If you're too young to have an emotional attachment to such objects, you'll be seeing something very cool for the first time!
Of course you agree this is a handsome appliance, but when it comes to features this unit really has it covered. Very high ranking with Amazon customers and with us. This is a number one seller from a well respected company Nostalgia.   Check this video – here it is in action.
Nostalgia RSM602 Retro Snow Cone Maker Options
With the Chrome steel reducing blades rapidly shave ice into fluffy, snow-like ice. It also works great with all Nostalgia Snow Cone Kits! (Snow Cone Package-SCK800, SCS160-Snow Cone Syrups, Straws and Cups-SCSTRAWCUP20)
Makes 20 (Eight oz.) snow cones & has a 360 degree clear view chamber.
Works with ice cubes from your fridge and has a user friendly serving door for scooping shaved ice.
Included are 2 (Eight-oz.) reusable plastic cones and ice scoop – Cone shelf holds 2 snow cones with automatic safety switch & handy countertop design.
**(This product is for sale here)**   BUY NOW
What we like?
It uses regular ice out of your freezer (or) gas station bagged ice
Ice texture is superior with this machine due to stainless steel cutting blades to make your snow cone recipe perfect!
Makes "snowy" shaved ice just like your favorite snow cone shack or Ice Cream Truck
It is portable and not too big to pull out everyday if you wish.
No problem operating or cleaning the unit.
Comes with accessories including a scoop
Has capacity to make 20 snow cones
What we don't like?
Shelf only holds 2 snow cones
Door and latch design could be improved
50/50 but, seems to work better with crushed ice or smaller ice cubes
Nostalgia RSM602 Retro Snow Cone Maker Product specs chart
Product Dimensions 12.5 x 10.5 x 15.5 inches
Item Weight 10.49 pounds
Manufacturer Emgee
Item model number RSM602
**(This product is for sale here)   BUY NOW
Is there support after the sale? Guarantees/returns?
While Nostalgia Products doesn't support this product directly at the consumer level, they do offer User Manuals and Parts Catalogs to their customers.
Our recommendation:
Rating 4 stars    ★★★★
We recommend this highly. One of those things that's fun for the whole family.  BBQ's, birthday parties, or just an outside family get together. The fun factor you can't deny.  Large enough to make 20 snow cones with the consistency of fluffy, snowy shaved ice.  Stylish, portable and easy to clean.
Where to get this product
**(This product is for sale here)   BUY NOW
◆ MORE ◆
How to Make a Snow Cone Recipe in Your Own Kitchen | Nostalgia RSM602 Cone Machine | Review
In my opinion, it's a wise and very popular choice. An industrial style apartment will bring old-world appeal and incorporate the sleekness of modern design.  Some of the old and some of the new.
Using neutral color palettes, open room layout designs, mixing wood and metal, and use of old factory accessories is a great start for building this style .
It is a general misconception, that industrial style decor is restricted to urban lofts or smaller-city dwellings.  Actually, with a little creativity, you could disperse industrial design thru your interior and rooms of a larger home. Bring a little of this aesthetic into your country home for more open, uncluttered and modern feel.
This Industrial look is contemporary, yet may have an old factory vibe. More ideas and materials on your shopping list may include: Hard wood floors or concrete, metal elements accessories and furniture, salvaged or vintage pieces, antiques, etc..  Leave raw elements like exposed pipes, brick walls, large windows bare with no ornamentation. Your industrial style apartment should have a colder and utilitarian appearance, which is the look you're going for.
Creating Your Industrial Style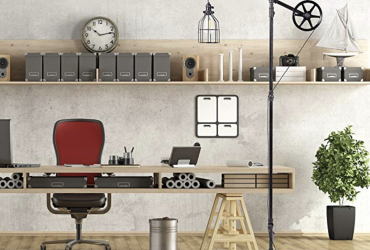 Urban architecture with a warehouse "feel"usually is a great start to build this type of interior design.  Exposed bricks, wide open spaces & windows , hard wood or concrete floors and uncovered pipes only enhance industrial style.
In other words, raw materials in the architecture itself give way to a desired unfinished appearance.  Aged concrete or brick walls, ceiling beams, pipes and wires should purposely be left uncovered.
When painting is needed,  simple colors of grey, rustic and neutral shades are suggested to give it a clean impression. Let your furnishings like, INDUSTRIAL FLOOR LAMPS, be the star of the room and the paint colors will be a nice complimentary background.  Textures and materials are more dominant for an industrial style apartment than wall color.
Wood – Metal – Accessories
Industrial design style screams for bold (sometimes large) prominent objects. They may need some open space to stand out. Open space is a very important factor in this style. The space you use and the space you don't use is critical and could cause overcrowding in your room, if not careful.
Mixing wood and metal pieces throughout your place, will enhance this design plan quickly. Weathered wood / timber pieces and brush finished metal or chrome could be smart choices. Finish off with Edison Bulb Lamps and your starting to have a pretty good layout at hand.
Conclusion:
Industrial décor, furnishings and style are unique.  Many elements have burnished, darker characteristics (as opposed to) the color pop of Mid Century Modern.  Peeling off paint, exposed brick and concrete block give a vintage & rustic look. Some might conclude that Industrial would hold up longer than other contemporary styles.  It's obviously a great choice when your new place includes exposed beams, light fixtures and pipes.  That gives you an immediate head start on this wonderful and versatile design style.
More Places:
FRESHOME – Industrial Design? The Perfect Blend Of Old & New
MID MOD SCOUT – The Industrial Home
ABODO – 5 Key Elements to Create an Industrial Style Apartment
Why would an Industrial style apartment be a good Choice?
Clients we have worked with